Jurassic World: Dominion Dominates Fandom Wikis - The Loop
Play Sound
Description
"The Shinobi Tribe is ruled by women who reside in a fortified village deep in the mountains and valleys of the former Hazam Nation. Their heirloom, the Brigandine of Freedom, represents the freedom these women have longed for. Talia, daughter of Chief Mother Della, fights for the future of the tribe, a future that won't be threatened by the wars of other nations."
Occupying the deep forest fortress of the former Hazam Nation, this tribe has chosen a path of self-rule by only women. There used to be men in the tribe until they were eventually exiled.
While using Shinobi magic to work as spies or mercenaries for other countries to support themselves, they crave the day when they will be truly free from the influences of major nations.
Infusing this wish into the Brigandine passed down from generation to generation in the village, the tribe calls it the Brigandine of Freedom.
Initial Status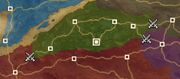 5 Castles
12 Knights
30 Monsters
482 Mana
Rune Knights

* joins in 781 6/24
** joins in 781 7/24
*** joins after Talia upgrades to Great Mother
**** Available in Challenge Mode after fulfilling SS achievement
Territories
Country's Strategy
Starts with 5 total bases, 2 of which are front line bases.
The tribe's small territory is located in a natural fortress of mountains and forests that protects them.
With only two bases open to enemy attacks, players are able to dispatch more idle knights on quests.
In line with the Shinobi Tribe's story, this nation's true challenge is switching from defense to offense.
With units like ruler Talia and Healer Medessa who excel at recovery magic,this nation is built for defense. Swordsman Sid, Jose, and Bazoo Knight Toby's preferred terrain is forest. Since the Shinobi Tribe has many bases in forested areas, this boosts the nation's combat power even further on home turf.
Videos